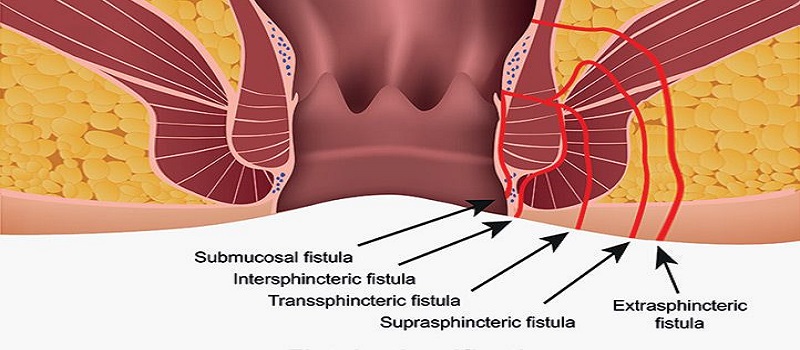 Fistula Treatment In Ghaziabad
Fistula Doctor in Ghaziabad
Is going to the toilet a fear for you? Can't sit comfortably? Does Fistula Discharge Stop Your Steps? Tired of operations over and over? Do you suffer from daily bleeding in your stools and want to get rid of it permanently? Tired of taking useless, endless formulations for months and months? Visit Piles fistula clinic at Ghaziabad to get rid of all these problems.
A small tunnel that develops between the end of the bowel and the skin near the anus as a result of an infection near the anus causing the collection of abscess in the nearby tissue. In most of the cases, Anal Fistula doesn't heal on its own causing symptoms like discomfort, skin irritation and usually, surgery is recommended. We are providing the services of anal fistula treatment in Ghaziabad with a highly qualified fistula specialist doctor in Raj Nagar, Ghaziabad.
What are the symptoms of Anal Fistula?
Symptoms of an anal fistula can include:
Skin irritation around the anus.
Discomfort or severe pain while sitting, walking, coughing or passing the stool.
Foul-smelling abscess discharge from near your anus.
Bleeding or passing pus while passing the stool.
Swelling and redness around your anus accompanied by high fever due to infection.
Frequent bowel movements in some cases.
What are the causes of Anal Fistula?
Some of the causes of Anal Fistula include:
Crohn's disease –the inflamed digestive system due to a long term medical condition.
Diverticulitis –inflammation of small pouches that can be formed anywhere in the large intestine (colon).
Hidradenitis suppurativa – also known as acne inversa is a long-term skin condition that causing the formation of small bumps under the skin.
Infection with conditions like tuberculosis (TB) or sexually transmitted diseases.
Anal Fistula Treatment in Ghaziabad
Treatment in Ghaziabad is delicately performed to reduce the risk of bowel evacuation due to the proximity of the anal fistula to the muscles of the anal sphincter. The best approach requires that each patient be assessed individually with our experienced fistula specialist doctor in Ghaziabad.
Anal fistula treatment is attempted with the least possible influence on the sphincter muscles. This often depends on the position and complexity of the fistula, as well as the strength of the patient's sphincter muscles.