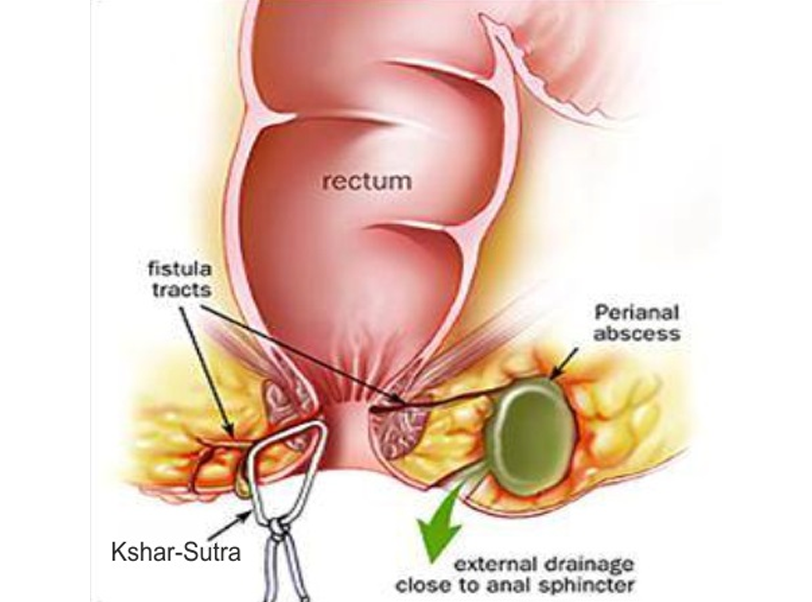 How does the Kshar Sutra Treatment work?
The Kshar Sutra Treatment or Therapy is an ancient Ayurvedic treatment for anorectal disorders. Commonly, it is used to treat diseases such as piles, fissures, and anal fistulas. There is no more invasive treatment than the Kshar Sutra Treatment. Patients will also find it to be safe and affordable.
Kshar Sutra is categorized as a para surgical treatment. These are the special methods of managing the surgical as well as nonsurgical conditions using Anushastra (those instruments which can act as surgical instruments but are not as superior as them).
How Kshar Sutra (Thread) is prepared?
A linen medical thread of size 20 is used.
A special cabinet with a UV lamp is used to hang the kshar sutras.
Snuhi latex is smeared on linen thread evenly using clean and sterilized gauze pieces soaked in Snuhi Ksheera.
Kshar Sutra cabinets have linen thread smeared on hangers for drying.
Snuhi Ksheera must be smeared on the linen thread again after it has fully dried. This process must be repeated 11 times.
Repeat the process with Snuhi latex after 11 coatings with Snuhi Ksheera. Ensure the thread is uniformly coated with Aapamarga Kshar after passing it through the heap of finely powdered Apamarga Kshar. Shake the thread hanger gently and allow the excess Apamarga Kshar particles to fall to the ground if Apamarga Kshar adheres to the thread in excess. Place the hangers with smeared thread in the Kshar Sutra cabinet once again for drying. Repeat the process seven times.