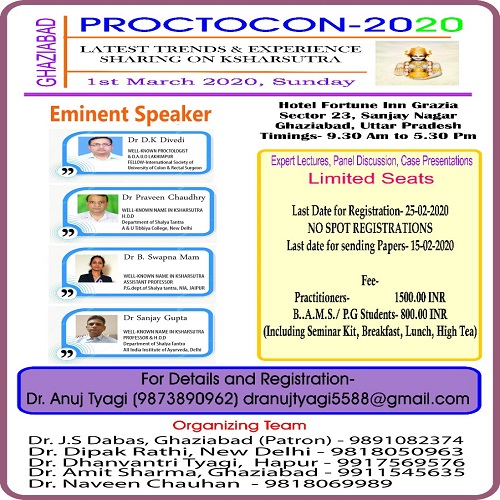 KSHARSUTRA PROCTOCON 2020 IN Delhi/NCR
Dear friends we are going to organise a conference on KSHARSUTRA PROCTOCON 2020 IN Delhi/NCR Ghaziabad Uttar Pradesh on Sunday 1st March, 2020.
Eminent Speakers:
1. Dr Praveen Choudhry
Well known name in Ksharsutra proctologist. HOD of Shalyatantra A & U Tibbia College Delhi.
2. Dr D K Dwivedi
Clinical and teaching experience in Bareilly Ayurvedic college and hospital, (D.A.U.O Lakimpur Uttar Pradesh), member of European proctology Society,
fellow of International society of University of colon & rectal surgeon
3. Dr B. Swapna mam
Professor in P.G.dept.of shalya tantra, NIA, JAIPUR. area of interest is dealing with complicated fistula in ano, chronic non healing ulcers, IBD and Renal diseases through ayurvedic managements.
4. Dr Sanjay Gupta
Professor and H.O.D. All India Institute of Ayurveda( AIIA) DELHI
Date
1st March 2020. (Sunday)
Time
9.30 AM to 6 PM
Venue
Fortune Inn grezia Hotel
Sec 23 sanjay nagar near CMO office or ALT center ghaziabad
Conference Plan
• Registration and Breakfast
• Inaugural by our special guest
• Welcome note
# Dr Sanjay gupta sir
Professor & H.O.D Shalya tantra (All India institute of Ayurveda) A.I.I.A Delhi
• Lecture of Dr B. Swpna mam Professor in PG dept of shalya tantra NIA, JAIPUR
Topic-- Clinical anatomy in relation to FISTULA IN ANO and management of complex fistula in ano
.# Lecture of Dr Praveen Choudhry sir
Topic-pilonoidal sinus management by Ksharsutra
• Panel Discussion on cases
• 2 Paper Presentations
• Lunch Break
• Dr D K Dwivedi
• Topic-Basic mangemant by Ksharsutra in Anorectal disorder
*complex fistula mangemant by Ksharsutra
• Panel Discussion on cases
• 2 Paper Presentations
• Tea Break
• Regard for our Ksharsutra practitioner which are doing something different for Ksharsutra proctologist
• Certificate distribution.
You are invited to present your cases and papers. You may submit your cases on dranujtyagi5588@gmail.com for approval till 15 February.
Only limited seats available....
Registration fees: Rs 1500/- for practitioners and Rs 800/- for BAMS internees and post graduate students.
For registration contact any of the following organising team-
Patron--Dr JS Dabbas
Whatsapp--
Dr Anuj Kumar Tyagi 9873890962
Dr Deepak Rathi 9818050963
Dr Dhanwantri Tyagi
Dr Amit Sharma
Dr Naveen chouhan
Last date for Registration - 25 February 2020.
You can pay registration fee through paytm/phonepe - 9873890962
Bank details - -STATE BANK OF INDIA
acc no - 33812094981
Ifsc code - - SBIN0012964
And send me screen shot with your details -
Name - - - - - - sex - - - - -
Practitioner or Bams student or PG student
And send on WhatsApp number 9873890962
Your active participation is appreciable.
Kindly forward to all other Ksharsutra proctologist friends.